PEER SWEDEN
Cooperating IT-consultants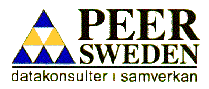 ---
Welcome to the home page of PEER Sweden. The pages are in Swedish but here is a short explanation for our English speaking viewers:
Reliable competence
Peer Sweden is an association for small IT consulting companies. Peer Sweden is not open for everyone. Our members must meet very high demands. One of the most important perequistques is that the member company has highly educated personell that are well experienced in their specific field of competence. All members in Peer Sweeden are entrepeneurs, qualified consultants with a personal commitment in every assignment. They are used to working in senior positions in the client companies and are highly trusted.
Honour
All members of Peer Sweden must pledge allegiance to our ethics. This is nessecary if clients are to be able to trust every member company to live up to the hallmark of Peer Sweden: Thoroughness, Quality, Honesty and maximum value for money. The ethics are not negotiable. They must be followed at all times, and failure to do so is a base for a company to be expelled.
Finding the right consultant - at no charge!
We can find the right person for you. We have about 30 member companies, altogether more than 50 consultants to choose from. Searching for the right consultant in our ranks is a free service. We know that this service is appreciated. Just drop us an E-mail to: if you need a computer consultant.
Some of the things that we do best:
Administrative development
Business Process Reengineering
Data Communication solutions
Data Security
Document processing and administration
System development
Software Engineering
Multimedia
Optical data storage
Programming
Real Time software development
Project management
Training
Translation
---